By Fredrick Kalyango.
After failing in their title defense last season, KCCA FC has embarked on putting their house in order.
The lack of football activity on the pitch due to the ongoing COVID 19 suspension has not deterred the club from making moves in the boardroom.
The 13-time league champions were dethroned by Vipers SC probably due to their dip in form as evidenced by some of the below-average displays they made last season in the StarTimes Uganda Premier League.
A case in point is the three-nil loss to BUL FC in October last year. Not that KCCA FC are an unplayable lot, but the subdued manner in which they lost to Peter Onen's minnows (By KCCA FC's standards) was revealing. It exposed the grey areas that Mike Mutebi is already beginning to fill.
Ever since the Yellow lads lost their 2018/19 top scorer Patrick Kaddu to Morocco's RS Berkane, their attacking line has been anything but blunt.
The club relied mostly on Mike Mutyaba for goals and he did he tried to make good, but only to a limited level.
Despite at times showing flashes of his former self during his peak days, Mutyaba's best was way behind him. Remember, Mutebi got the former TP Mazembe attacking midfielder out of retirement in 2018.
Academy graduate Sadat Anaku evidently needed time to settle into the top flight. The club needed to recruit.
In a rather sly manner, the Kasasiro boys sweet-talked the unsettled Sports Club Villa striker Charles Lwanga who had been embroiled in running battles with his employers over non-payment. In Lwanga, Mutebi is sure he has got another one for the future.
With a number of their perennial starters in several other departments like Muzamir Mutyaba, Sadam Juma, and others reported to be on their way out, the gaffer added a little known Italian former 'Biker' Stefano Mazengo Loro.
The 26-year-old midfielder was unveiled like a Hollywood star last Sunday on KCCA FC TV that airs on Uganda's home of sport Sanyuka TV every Sunday at 10:00 pm.
In an interview with this Website, Mutebi spoke highly of his new catch. "Mazengo has not come as an advert but he has come to help the club on the pitch, he is still in his competing years and I think he will offer his best to us. We are bringing more surprises," said the boss.

Mazengo signed a two-year contract with an option of extension and although he lived in Uganda and Tanzania, he was born in Kenya by Italian parents and he began his footballing career with the Kampala Kids League program before featuring in Netherlands, Spain, and recently in the United Kingdom.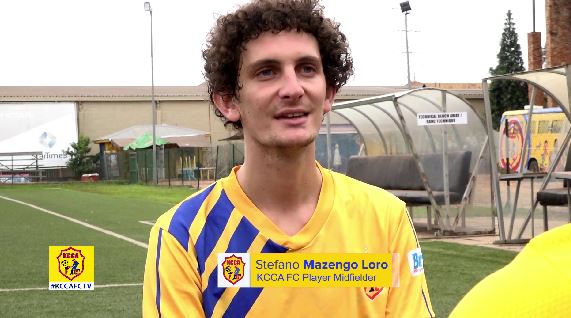 The club's third signing was former Vipers attacking midfielder Ashraf Mugume who spent the last two seasons on loan to Police FC.

STEFANO MAZENGO LORO QUICK PROFILE:
Football career:

2004-2006 – Hellas Verona FC (Italy)
2006 – 2009 – Kampala Kids League (Uganda)
2006 – 2013 – International School of Uganda
2014 – 2016 – FC Leorvadia (Netherlands)
2016 – Deusto University FC (Spain)
2017 – 2018 – Don Vittorio FC
2018 – 2019 – Sheffield Hallam University (United Kingdom)
2018 – 2019 – Sheffield FC (Futsal) – United Kingdom