By Demo Riley
Celebrated musician Bebe Cool is up in fear ensueing threats from an armed woman on Wednesday this week.
The singer who is a diehard of National Resistance Movement – NRM took to social media to expose the lady who is seen in the video holding an AK 47.
In the video, the unidentified woman keeps shouting "Tuli Mu Struggle" a slogan that is popularly used by supporters of opposition National Unity Platform – NUP, a party that is led by singer-turned politician Robert Ssentongo Kyagulanyi alias Bobi Wine.
"This video clip was sent to me by someone threatening me. I sent it to security organisations for more scrutiny. Of course we all know the People Power slogan is Tuli mu struggle," Bebe Cool posted on his social media.
"Today we all witnessed innocent people being robbed and cars being vandalized. This kind of hooliganism must not be tolerated in Uganda. #SecureYourFuture and vote for NRM candidates. Vote experience not age, vote issues not years," he added.
The threats came following nationwide chaos caused by NUP supporters after the arrest of their Presidential candidate Kyagulanyi in Luuka, Eastern Uganda.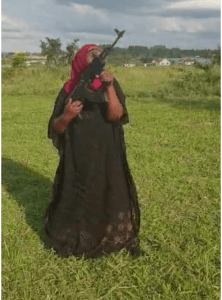 According to the charge sheet, Kyagulanyi was charged with doing a negligent act that could lead to the spread of a deadly disease – Covid19.
He had apparently appeared on a campaign ground that had gathered more than 200 people contrary to Ministry of Health and Electoral Commission guidelines.