Week 10 of the inaugural Uganda boxing federation (UBF) Champions League promises to be a unique and better one.
Not just for the super event organization by Top Boy promotions, top fighters and cheerful fans, but for the fact that top musicians Joseph Mayanja alias Dr Jose Chameleone and John Kasadha alias John Blaq have confirmed their presence at the Lugogo Arena this Saturday.
John Blaq has been at the arena before as he cheered on his Muzamir Semuddu. The 'Tukwatagane' singer was on the ringside to cheer Semuddu – his personal security personnel as he lost to Richard Kasujja last month.
For the country's number one music doctor, it will be the first time he graces the competition and no surprise, he will be cheering on Isaac Ssenyange Jr, the son to his slain friend Isaac Zebra Ssenyange.
Zebra, who captained the national boxing team for five years, was killed by security agencies in December 2020 in Bwaise – a Kampala suburb.
The 'Forever' singer was very close to Zebra who manned his personal security.
"We painfully lost Zebra but he left another champion; my brother Junior," the legendary singer said in a video before rallying Ugandans to go and support the boxers at Lugogo.
"Let us support him, I will come and give you support; beat those bomboclat," he said.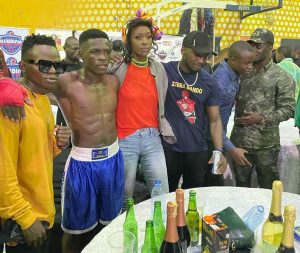 The champions league has gradually attracted top celebrities, businessmen and partiers who come for the serene vibe. Members of parliament; Bernard Odoi (Youth Eastern region) and Derrick Orone (Gogonyo constituency -Pallisa), Adam Buyinza (Politician), Lydia Matte (CEO- SEMA Uganda) among others.
Celebrities like Navio, Prim Asiimwe, Judith Herd, Moze One, Haffy Powers, Abryans among others have also graced the competition.
Isaac Ssenyange Jr and Semuddu will be the main fighters of the 12 bouts lined up for this Saturday.
The two will face off in the light middleweight category (71kgs) with Semuddu, who weighed 68.8kgs during the official weigh-in on Friday, seeking his first victory after losses in the opening two bouts.
Isaac, who weighed 69kgs is chasing his second win in a row having earlier beaten Kasujja and lost to experienced John Owino from UPDF respectively.
The champions league is a platform on which boxers work for slots at the national team for the forthcoming Commonwealth Games due July in Birmingham, UK.
The champions league is broadcast live on Sanyuka TV and can also be watched live on the Afro Mobile App.