The more the inaugural Uganda Boxing Federation Champions League gets more exciting, the more it attracts more fans, celebs, and philanthropists.
During week 12 of the competition at the Lugogo Indoor Arena last weekend, it was a dream outing for Ashraf Owen Kibira.
The Lukanga boxing club boxer earned an unexpected UGX  one million from Sulaiman Kiwanuka after his unanimous decision victory against rival Ukasha Matovu of Lubya boxing club in their bloody welterweight (67kg) bout.
This was the main bout on the cards and came as a rematch after settling scores after the first one ended in a draw.
Kiwanuka who unsuccessfully contested for the Nakifuma constituency Member of Parliament position in the last general election is a sports philanthropist who has supported talents in different sports fields.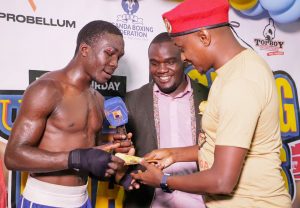 And just this year, he decided to include boxing talents in what he wants to support. He started by offering training equipment to amateur boxers in Nakifuma, but after watching the Champions League on Sanyuka TV, he decided to hit Lugogo and the experience wowed him to give back.
"The experience is marvelous and I must confess, I have been missing this. I had supported football talent through my club Spartans FC before I was frustrated by FUFA," Kiwanuka said.
"Honestly, I have been missing boxing and I must say, I will come back and support these talents. It is also wonderful for Sanyuka TV to give us the action live."
"I was attracted to come and watch the action live after watching Sanyuka TV. They also have the first-ever exclusive boxing show on TV that gives analysis and perspective; that is awesome too," noted Kiwanuka, after extending Shs1m to Kibira.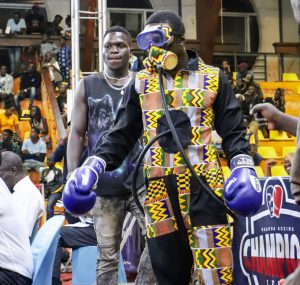 He also extended UGX 200,000 to the losing Ukasha. Not close to his best, Ukasha, who won gold in 2016 cadet and intermediates, lost almost all the five rounds with exception of the third round where he seemed to have put up a fight.
He even bit his opponent in the second last bout although the referee did not see and instead counted for Kibira.
The win put Kibira, a 2017 schools champion, in pole position for a place on the national team to Birmingham for the 2022 Commonwealth Games.
Meanwhile, it was fashion meeting boxing last weekend and vibrant models showcased the most trending ladies' fashions. Kibira stood out from all other boxers with his astronaut attire.