In the world of words, during the official weigh-in last Friday, Lawrence 'the animal' Kayiwa was the outright winner.
But not so, when it came to the world action as Idris 'Hashtag' Mukiibi convincingly came on top by the end of the five-round Light heavy weight contest during the week 11 of the Uganda boxing federation (UBF) Champions League held at Club Obligato, Bombo Road on Saturday 22nd, April, 2022.
The two boxers were facing off for the second time in the inaugural but much exciting competition after settling for a draw in the previous clash.
Each vowed to send the other to the canvas and this would enhance the winner's chances of earning a call to the Bombers team that will represent the country at the 2022 Commonwealth Games in Birmingham, UK.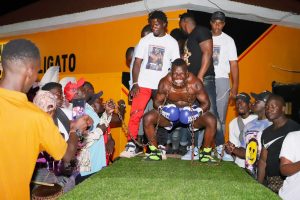 Mukiibi, in red corner had earlier revealed that he had an injured right shoulder during their earlier fight and his healing was the worst news to his opponent.
Aided by his height advantage, Mukiibi's best weapon was the left jab that kept Kira boxing club's heavy puncher at bay.
His movement, tactical approach and game reading were superior. Kayiwa who makes his way to the ring on chains like a beast, had the most noise in his corner, thanks to a number of his fans that turned up.
He was however, below his usual mark and landed fewer punches despite throwing most punches especially in crosses.
His best round was the fourth when he found his way inside and landed some hooks and crosses but Mukiibi, who was led to the ring by artiste Zex Birangirangi, jabbed to a 4-1 split decision win albeit finishing the fight without a master combination unleashed.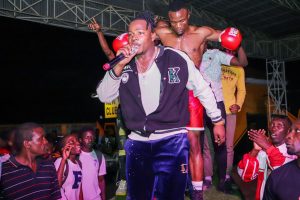 "I never wanted to him to get closer to me because he is a bouncer," noted Mukiibi, who moved joint top on the light heavy weight table with Kayiwa on 4 points above pointless Medi Mutebi.
"My plan was to keep him at a distance and my jab did the work. I am chasing a dream of representing the country at the Commonwealth Games, so whoever comes should know," he added.
The UBF Champions league continues with week 12 next Saturday at the Lugogo Arena with 12 bouts on the card.
Matovu Ukasha and Owen Kibira renew their welter weight rivalry in the main bout after the previous ending in a draw.
UBF Champions League, Week 11 Results:
Youth Feather Weight Women
Jema Mukisa bt Nadia Najjemba (SD)
Welter Weight Youth
John Muganga bt Abdul Kizza (SD)
Minimum Weight Youth
Charlie Sekyanzi bt Jacob Odok (UD)
Middle Weight Youth
Sadt Kilwana bt Ronald Nsaba (UD)
Junior Light Middle Weight
Felix Onen bt Faisal Mugerere(SD)
Junior Light Weight
Charles Higenyi drew Sadam Mohamed
Junior Welter Weight
Bate Nuhu bt Mohammed Sadat (UD)
Light Welter Weight Youth
Sowedi Kyewalyanga bt Idi Suuna (UD)
Fly Weight
Ronald Gayita bt Geoffrey Ochan (UD)
Light Heavy Weight
Idiris Lubega bt Lawrence Kayiwa (SD)
Light Welter Weight
Edward Kimera KO Colline Mutyaba