By Martin Kaddu
The presence of top artists at the Uganda Boxing Federation (UBF) Champions league slowly but surely brings the feel of Las Vegas night at Uganda's fight nights. 
During round five of the competition last Saturday at the Lugogo Arena, the boxing fans that paid their UGX 20,000 entry fee chilled with the big boys as stylish UBF President Moses Muhangi was joined by top artists Navio and John Blaq at the Top Boy promotions organized event. 
The duo that paid a table of UGX 1.5M each joined supermodel Judith Herd and top designer Abryans, who has graced the event more than once. 
These celebrities surrendered their seats as the biggest fight of the night approached. Blaq and Navio joined the Muzamir Ssemuddu (Kololo Boxing Club) ring walk ahead of his bout against experienced John Owino from the Army Boxing Club.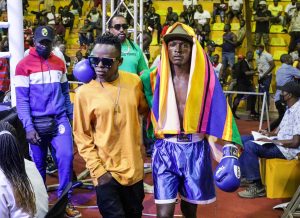 Navio even took to the microphone to create the desired vibe for Ssemuddu, Blaq turned the cheerleader. 
Ssemuddu, who is part of John Blaq's security team, started well dominating the opening two rounds as he looked better prepared mentally and physically than his opponent from the Army. 
His speed, attack and aggression almost stopped Owino save for his experience. However, things turned around for Ssemuddu when he lost his legs, endurance and power.
 Just like in his first victory against Isac Senyange Jr, the 29-year-old Owino lost concentration in the early stages of the fight but regained conscience in the third round to dominate Ssemuddu and eventually win the fight by unanimous decision after the five rounds.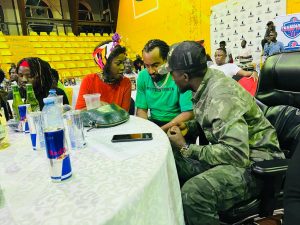 Juniors, youths join the fray
As the competition gets intense, the juniors and youths got to the ring for the first time. These categories compete with headgears.
The juniors go for only three rounds of three minutes each, while the youth go for four rounds. The Elite category boxers fight for five rounds; two more than the usual three in the amateur set-up.
Ibrahim Saidi beat Moses Kimera in the flyweight juniors, while Timothy Mutambi beat Aron Ouma in the same weight.
Meanwhile, Shafik Mawanda beat Ashraf Muwonge in the four rounds of the youth flyweight category.  
Ladies conquer space
Despite not being the most anticipated on the night, the ladies served the most exciting bout as Teddy Nakimuli and Nali Jalia drew in the bantam weight female bout.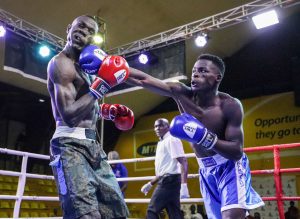 Nali (Zebra Boxing Club) had beaten Sandra Attermo in the previous fight while Teddy had lost to the former. Nakimuli (University of Pain) was more aggressive, threw better quality punches and dominated proceedings throughout the three rounds. 
It was unfortunate for Nakimuli that the judges scored a draw much to her disagreement. 
Elsewhere, Gilbert Lumbuye beat James Kakuru by split decision in the minimum weight whilst George Wejuli and Medi Lubega drew in the heavy weight category. 
Action returns next Saturday at Lugogo Arena, with more celebrities and fans expected to grace week six of the competition.