World over, the boundary between amateur boxing and professional boxing continues to be blurred, but in Uganda, it continues to be an empty building.
Uganda is considered the cradle of boxing in Africa. The nation's success in the boxing ring is well-documented with that all-conquering team at the Commonwealth Games in 1990.
Be it Leo Rwabogo, Justin Juuko, Godfrey Nyakana, Isaac 'Zebra' Ssenyange or Sharif Bogere. The big names trace the roots to their legacies from the amateur sport.
Inaugurated in 2021, Uganda Boxing Champions League (UBCL), organised by the Uganda Boxing Federation and exclusively broadcast live on your home of Sports Sanyuka TV, pits together the best Ugandan amateur boxers from the different boxing weight divisions.
The competition brings together the top four boxers who qualified from their respective divisions during the Uganda national trials for the prize of National Champion.
With the aim of providing regular competitions for the amateur boxers, the competition takes up several semi-professional regulations with the weights divisions divided into Junior, Youth and Elite categories for both the male and female.
Fights are arranged on a Round Robin format within a given weight division for purposes of identifying the best boxers in each category with the winner decided on points collected.
The points system gives three points for a win, one for a draw and zero for a loss. The UBCL runs in seasons with every season covering around eight months.
After Two Rounds of Action, here is how the divisions stand.
Feather Weight (57 KGS): (Kyobe Jonah, Mubiru Derrick, Kamoga Isaac, Ssali Marvin)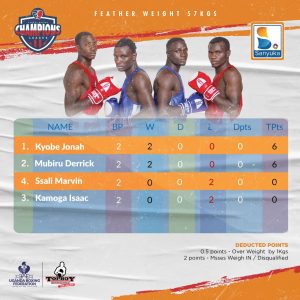 Light Welter Weight (63.5 KGS): (Joshua Tukamuheebwa, Kimera Edward, Mutyaba Collin, Siriro Pius)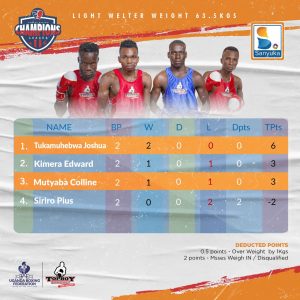 Light Heavy Weight (80 KGS): (Kayiwa Lawrence, Mukiibi Edris, Mutebi Medi)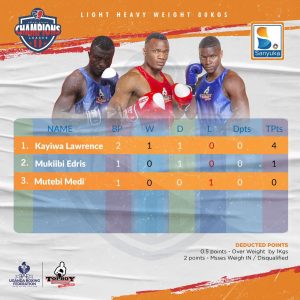 Fly Weight (51 KGS): (Ochan Geofrey, Gayita Ronald, Kasozi Frank, Senoga Stuart)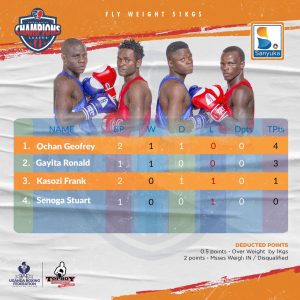 Welter Weight (67 KGS): (Nvule Umar, Sande Simon, Matovu Ukasha, Kibira Owen)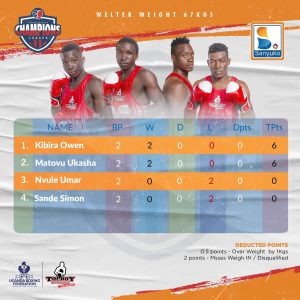 Light Middle Weight (71 KGS): (Kasujja Richard, Isaac Zebra jr, Owino Jon, Ssemuddu Muzamir)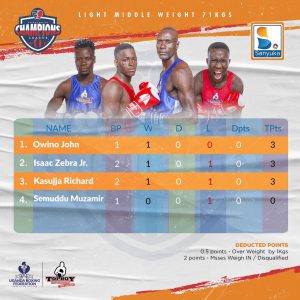 Middle Weight (75 KGS): (Okello Ronald, Nkobeza Yusuf, Okello Denis, Yiga Rashid)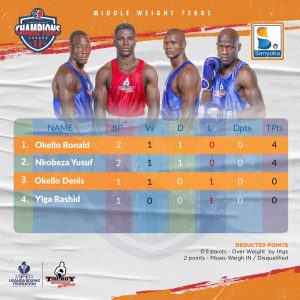 Minimum Weight (48 KGS): (Kalema Joseph, Lumbuya Gilbert, Mukisa Ramathan, Semambo John)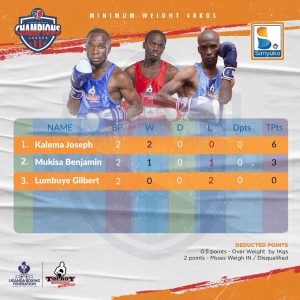 Cruiser Weight (86 KGS): (Mudanking Godfrey, Wandera Ronnie, Jamdali Adam, Baraka James)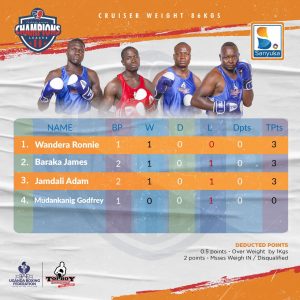 Light Weight (60 KGS): (Wasswa Ssali, Adnan Yasin, Onen Jaffer, Hassan Hasib)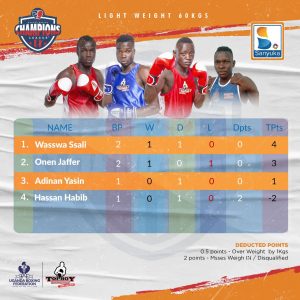 Super Heavy Weight (92+ KGS): (Geko Solomon, Ankah Nobert, Lybwama Fred, Mandela Godfrey)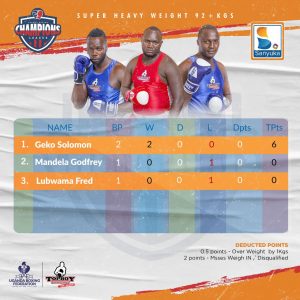 Bantam Weight (54 KGS): (Omondi Marvin, Kasozi Patrick, Mugerwa Fulje, Hussein Mulo)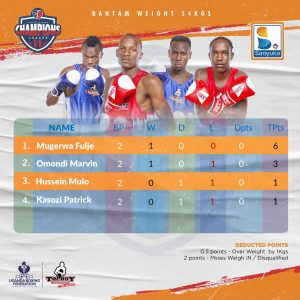 Women Bantam Weight (54 KGS): (Attermo Sandra, Nali Jalia, Nakimuli Teddy)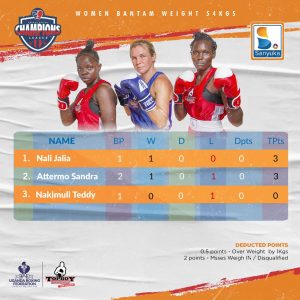 Women Feather Weight (57 KGS): (Ndagire Shalua, Kansiime Phiona)